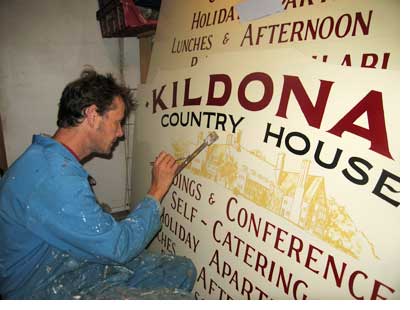 About Me
I am a self-employed traditional sign writer and decorative artist based in a serene corner of South Ayrshire. I serve the whole south west area of Scotland (from Kirkcudbright to Kilmarnock!) with traditional hand-painted signs and bespoke artistic work.

I have always had a love for art and good design and gained qualifications in higher art and technical drawing at secondary school. Further studies included 3 years at Glasgow College of Building and Printing where I completed a course to SNC level for Interior Design and achieved certificates for City and Guilds Signwork Craft and Signwork Advanced Craft. Once my college education was complete, I spent 18 months travelling in New Zealand and Australia working for several sign manufacturers and occasionally being commissioned for hand-painted signs or bespoke artwork.

Returning from overseas, I started my own business in June 1997, since then I have covered many aspects of decorating and traditional signwriting in my work, from vintage vehicles and a chancel ceiling in a local church, to wall murals and signs for a film set. Should you require any hand-painted signwriting or bespoke artwork of this type, please .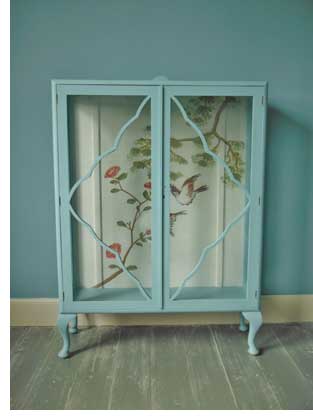 Hand Painted Furniture
Hand-painted Furniture is something I have most recently added to my portfolio and it is proving to be very popular.

First of all pieces are thoroughly cleaned and sanded and any repairs made good, then special primers are applied and allowed several days to cure...

Once colour and design have been determined, undercoats and topcoats are brought on, followed by any paint effects and the addition of bespoke artwork or decoration. The final stage is a protective coat of hard wearing varnish in a gloss, satin or matt finish, as is your preference.

Please have a look at my Gallery page for some examples of my work.

I have a selection of pieces for sale, or if you have something you would like hand-painted in this way, please contact me to discuss ideas and designs so that I can create for you a totally unique item that no-one else can possess. Colours can be made to suit your taste, or to match your existing interior, ensuring you get something exactly to your wishes